Recent RotoWire Articles Featuring Hector Santiago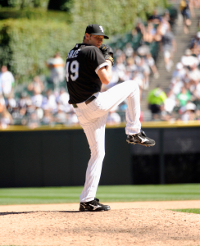 2014 White Sox Team Preview: Youth Movement
Published February 13, 2014
The White Sox had a dismal season all-around in 2013 to finish last in the AL Central. A series of moves and trades in the offseason made the team much younger, but likely well out of contention.
2013 Stat Review for Hector Santiago As compared to the top 100 starting pitchers in 2013 (min 140 in)
K/BB/HR Stats
A collection of stats that measure different skills.
Explain This
ERA/WHIP/FIP
A few general measures of a pitcher's effectiveness.
Explain This
BABIP/Strand
Balls in play avg. and % of runners left stranded.
Explain This
2014 Projected Stats Breakdown for Hector Santiago
Overall Ratings
2014 projections compared to top pitchers in 2013.
Los Angeles Angels Roster
Career Pitcher vs. Batter Stats (View All Matchup Data)
Worst Matchups for Hector Santiago (by OPS against, min 1 AB)
Best Matchups for Hector Santiago (by OPS against, min 1 AB)
RotoWire's Preseason Outlooks
2014
Subscribe now to see our 2014 outlook.
2013
Santiago surprisingly won the White Sox's closer role out of spring training to start the 2012 season, but he lost the job after blowing two saves and posting an 8.53 ERA in April. The club stretched him out later in the season, and he made four September starts. His repertoire is a bit unique in that he relies heavily on sinkers and screwballs, both of which helped him strike out 28 batters over his final 22 innings. He should continue to build up arm strength in the offseason as he pitches in the Dominican League and plans to play in the World Baseball Classic. Santiago should be in the mix for one of the final spots in the White Sox's rotation this spring.
2012
The White Sox recalled Santiago in late June when injuries hit the pitching staff, and he appeared in only two games during his 24 days with the club. He looks more like a reliever at this point, but he will probably begin 2012 as an organizational starter at Triple-A. His leap to Double-A last season came with a slight decline in his strikeout rate (8.01 K/9IP) and a big spike in his walk rate (4.22 BB/9IP). He will need to improve the latter in order to remain a starter as he continues to advance through the system.